These are going out today to their new homes.
They are wooden plates decorated with a contemporary rosemaling design. Each design is painted freehand in oils using a traditional Norwegian color palette. The movie Frozen has brought the art/craft? of Rosemaling back into the eye of the public with beautiful designs by Brittany Lee. I am thrilled to again be able showcase this beautiful decorative art/craft? that I learned years ago in Wisconsin. Is it a craft? An art? Who cares? Can art and craft live happily together in the studio of one artist? They do in mine. The aesthetic movement and it's artists have always inspired me....Vanessa Bell, Daniel Bell, Evelyn Pickering, Lizzie Siddel, William Morris. Beauty for beauty's sake that resulted in paintings, tapestries, wallpapers, tableware...here is small gallery representing some of their work...art and craft. Craft and art.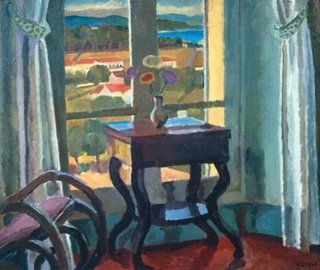 So the craft vs art thing will continue but for me there is no debate. Life is too short to spend limiting your breadth or depth as an artist by attempting to confine yourself to arbitrary categories defined by others. Listen the marvelous Grayson Perry chat about this below. Now off to work on a figurative painting...tomorrow maybe a textile design.